What do enterprise decision makers want from thought leadership?
New Memetic research shows IT leaders want better insight from tech companies and consultancies
Published on 12th March, 2020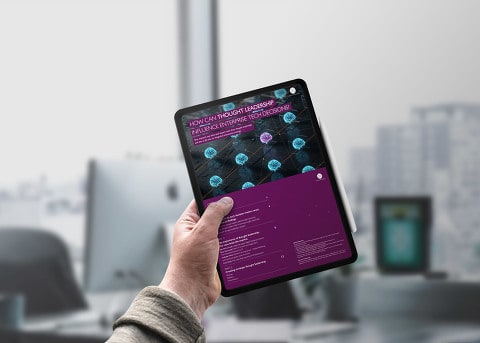 New research by Memetic Communications finds that senior enterprise decision makers want quality thought leadership from tech companies and consultancies, but feel that most fall short.
Research amongst 100 senior IT leaders found 67% said their organisation needs to be continuously learning in order to navigate new challenges, such as those from digital transformation.
Nearly half, 43% went further, saying that deep business insight into emerging technologies was critical to keeping up with the competition.
However, only 21% felt the standard of insight in the public domain was of sufficient quality for their needs.
What makes good thought leadership?
IT decision makers said that depth, evidence, and actionable guidance mattered most in thought leadership from tech companies or consultancies.
92% listed 'practical guidance I can use immediately' as essential or useful in good thought leadership.
87% listed 'deep insight into a specific challenge' and 86% 'detailed use cases'.
Supplementary evidence from outside the company was also considered valuable in good thought leadership, with 79% valuing third parties expert insight, and 74% rating survey data.
What do decision makers think of existing thought leadership?
However, IT decision makers felt much existing content fell short of being true thought leadership.
Half of respondents suggested lack of rigour is problematic in such content. Over half, 54%, said they had read purported thought leadership, only to find it was bland marketing material.
52% highlighted 'lacks practical advice' as a problem in the thought leadership they read, and 47% said the same about 'claims are not sufficiently evidenced'.
Other complaints from those who invested their time reading 'thought leadership' were that it was vague (40%) or hadn't said anything new (30%).
Only 5% said they had not experienced any such issues, suggesting a significant number of articles or whitepapers are not received in the way their creators intend.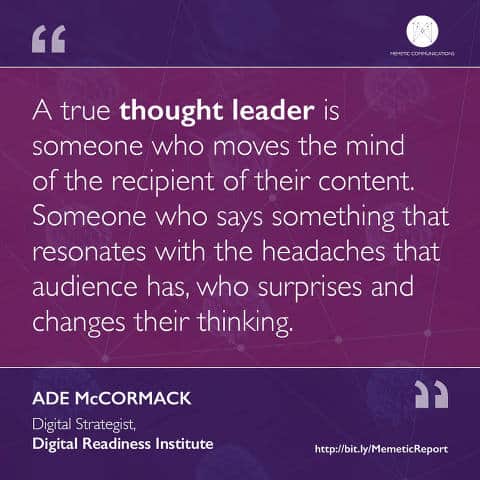 The value of thought leadership in influencing senior decision makers
Decision makers said good thought leadership inspired trust and confidence in the organisation that produced it. In particular, they trusted organisations more when their content contained proven examples of challenges being solved (68%) and insight from subject matter experts (60%).
Amar Hussain, Information Management Data Lead at Total, who contributed to the report, said: "For technical people like myself, it is highly valuable when tech companies share their expertise through useful insights and recommendations that I can use in my work."
How to do thought leadership well within marcomms campaign
Memetic's report interviewed a number of experts on how to do thought leadership well, who shared their insight:
Ade McCormack, Digital Strategist at the Digital Readiness Institute, who has worked with many of the world's largest technology companies, says: "Senior decision makers value content that helps them face an unknowable future. Tech companies need to understand how their technology fits into client context, or relate it to macro-economic forces shaping the world. Unfortunately, too many produce content that is dull and product focussed, rather than insightful and challenge focussed – which is what strategic decision makers want to receive."
Anthony Hatter, Accenture's Global Marketing and Communications Lead, Ventures & Acquisitions, adds: "Good thought leadership is not about a piece of content – but about capturing genuinely new thinking. This can then be used strategically over six months or more, as part of a joined-up approach, across multiple channels: events, media, digital and social, analyst programmes, speaking opportunities, client centric marketing, and so on. Any single piece of content withers on vine, but when each piece links back to a broader thought leadership campaign, that's when it starts to move minds and demonstrate true expertise."
David Lewis, Director of Memetic Communications, says: "Our findings suggest many organisations are not creating thought leadership at the level of quality or depth that senior audiences want. There is clearly a huge opportunity for the smarter businesses to make use of their hard-won expertise to develop truly valuable thought leadership that resonates with key decision makers."
"Good thought leadership complements and boosts other comms and marketing activities, connecting them around meaningful ideas, which influence decisions and establish the authors as experts."
"This is a missing part of many otherwise excellent B2B communications campaigns, not a replacement. We are keen to work with companies wanting to boost their thought leadership, but also to partner with comms and marketing agencies interested in building deeper thought leadership as part of their clients integrated marcomms programmes".
The report How can thought leadership influence enterprise tech decisions? which contains the full research, analysis, and practical recommendations for creating thought leadership, is available here: www.memetic-comms.com/insights/research-and-guides/
It was developed through primary research amongst 100 IT decision makers carried out by Vanson Bourne, and interviews with communications experts working for BCS, The Economist, Accenture, and The Digital Readiness Institute.