Multiple pieces of research show that B2B decision makers - your customers - want business insight, and will trust you over your competitors if you provide it through quality thought leadership. The only caveat: most thought leadership does not cut the mustard.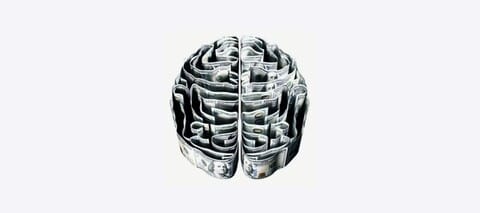 In early 2020, Memetic research amongst 100 senior tech decision makers found 67% want to be continuously learning, but only 21% felt publicly available insight was good enough.
It seems we started a trend. FT research of 1,000 CXOs found 80% said quality thought leadership influenced their decision on who to award a deal to.
The same number, 80%, said they would happily provide contact details to download in-depth content. 70% went further, saying they request calls or meetings with companies that produce quality thought leadership. But they only rated 18% of thought leadership highly.
Then in late 2020, Edelman and LinkedIn found 59% of B2B decision makers saying thought leadership is more trustworthy for assessing an organisation's capabilities than marketing materials. But they said only 15% of thought leadership they consume was 'good' or 'excellent'.
The message is clear. Quality, insightful thought leadership shapes decisions at the highest level. But few companies are producing this level of quality.
Closing the quality gap
Creating quality thought leadership, therefore, makes you stand out, because (a) it's what your customers desperately want, and (b) hardly any of your competitors are doing it well.
The Edelman/LinkedIn research emphasised the need to 'close the thought leadership gap' by investing in thought leadership.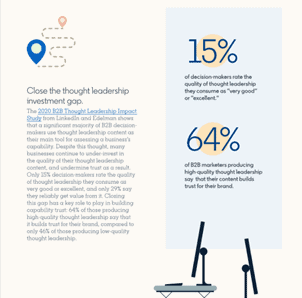 We agree. But closing the gap isn't easy.
9/10 respondents to Memetic's research said quality thought leadership should include 'deep insight' and 'practical guidance into specific industry challenges'.
This can't just be churned out under the badge of thought leadership. Writing an article or making a video is not enough. That content must contain genuinely new and valuable insights. That's the hard bit.
This needs experience and expertise. It needs people with industry knowledge who can spot the white spaces, and ask the right questions. Few have those skills on tap.
Memetic exists to fill this gap for companies and agencies. We provide on tap subject matter experts in science, tech and engineering. We bring well-informed ideas to the table, we ask your experts the right questions, we do the research, and only then do we create the content.
All of which ensures that our clients are in the top 15% who produce thought leadership that senior decision makers describe as 'excellent'.
Contact us using the form below for a free consultation on how you can stand out with quality thought leadership.