'Rethinking Urban Mobility' by Arup and others
Memetic is doing a lot of work on smart transport at the moment, which has involved plenty of research into different perspectives on the topic.
Published on 30th April, 2019
Memetic is doing a lot of work on smart transport at the moment, which has involved plenty of research into different perspectives on the topic. One report that caught our eye was Rethinking Urban Mobility, a report by Arup, The London Transport Museum, Gowling WLG and Thales.
As well as being useful for our own research, this is a good example of how thought leadership on complex topics can be handled. Here are the reasons it works so well.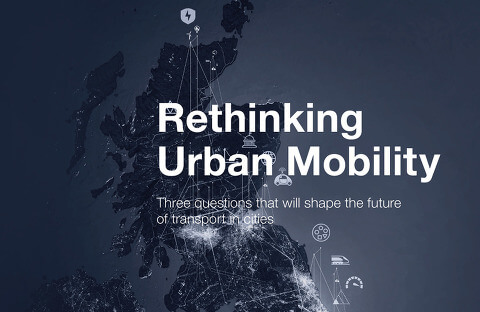 Highly relevant to a specific audience
Urban Mobility is a hot topic and one that local and central governments, as well as transport companies, are thinking hard about. It is also a step into the unknown, so these parties will all be looking for good insight. The topic is therefore an excellent one for Arup et al – who want to work with long term strategic urban transport programmes – on which to position themselves as thought leaders.
Collaborative expert insight
This is a collaborative work which draws in views from a range of experts, including from The London Transport Museum, Gowling WLG and Thales.
The information is gathered from round-tables with a small number of leading industry thinkers. There are no meaningless stats we often see in such reports (90% of senior execs think urban mobility will be on the agenda in the next five year). It is an expert discussion of the different drivers of change and informed speculation as to what they will mean for urban mobility. It is designed to inform decision making, not to make headlines.
The multiple expert contributors not only improve the quality of the content, but make the report far more credible than it would be if it was just Arup's opinion.
Hypotheses backed by real examples
The report sets out three big picture issues which it's audience will be considering themselves; The role of cities in urban transport; How demand-responsive transport will drive change, and The economics of urban transport.
Each offers a broad perspective and discusses how specific factors - land use, health, technology, etc - will impact each. Each section includes short case studies of initiatives around the world. These real-life stories bring the ideas discussed to life, and help the reader visualise what they might look like in their own cities.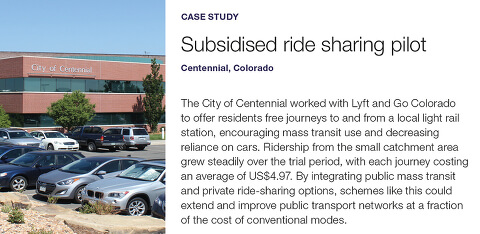 Actionable Insights
The report concludes with actionable insights that governments, cities and companies can take – leading the reader to think further about the practical next steps. This actionable insight is key to success, it is what differentiates truly meaningful thought leadership from the plethora of 'industry opinion'.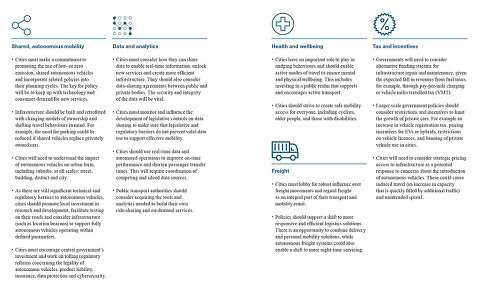 Dissemination of the report as a sales and marketing tool
Arup has made the decision not to gate their content. This increases reach but seems a missed opportunity for lead capture. Having done the hard bit of developing a thorough piece of content, it seems reasonable to ask people for their email address to read it, so they measure impact and capture useful contacts.
The report ranks well for a search of 'Urban Mobility', though a title that reflects what city planners searching for specifically may capture more relevant traffic.
There is no obvious social media push. It seems like more could have been done, particularly on Linkedin by the vast, influential networks of the four contributing organisations.
A small number of trade media articles mention the report. Again, a strategically planned thought leadership campaign using different aspects of the report could easily have run for six months in relevant trade media, driving relevant traffic back to the report.
However, online metrics may be a distraction. The likely target was a small number of decisions makers in government and transport, many probably known to Arup. The real benefit of the content may have been as a conversation opener for their sales teams.
Takeaways
So, what can we learn from this report that's useful for producing something similar?
Focus on topics that relevant decision makers to your organisation care about
Draw in a range of expert insight to add credibility
Set clear positions, and pick them apart to reach informed conclusions
Use case studies and examples to bring points to life
Conclude with actionable insights that your audience can use
Target your content effectively to generate useful connections and start meaningful conversations
This is by no means the only way to present content and we will be looking at other approaches in the coming month. But for the big picture strategic thinkers shaping the future of cities, this is an invaluable report and a great example of powerful content.