This month we look at Deloitte's Tech Trends 2019.
This is a good example of how to take a nebulous topic and distil it into elements that attract interest from a broad strategic audience. It's also an excellent case study in breaking up a huge piece of content into digital elements, so that different audiences can quickly home in on what's relevant to them.
Here, we look at what makes it work.

Purpose of the report
This is a weighty report, intended for business and technology strategists. It is designed to offer real insight to serious audiences, not just to be packaged up into a press release. As it says:
"The eight chapters of Tech Trends 2019 look to guide CIOs through today's most promising trends, with an eye toward innovation and growth and a spotlight on emerging trends that may well offer new avenues for pursuing strategic ambitions."
What does it say: Structuring 142 pages worth of content
The report is divided into eight chapters. The first looks at once disruptive, now mainstream, technologies such as cloud and analytics. The following six look at emerging technology trends including AI, experiential marketing, serverless computing, and advanced connectivity. The concluding chapter attempts to bring these together within the theme of digital transformation.
For each trend, it identifies a board direction of travel and discusses specific themes that will affect its development, such as access to skills, regulation, ethics.
These provide a good overview, but where it really comes into its own is the case studies, or 'Lessons From The Front Lines' – real life examples of how companies are deploying these trends. What is refreshing is that these are practical. It resists the urge to talk just about headline results, instead offering explanations of how they were reached. It's story of Pfizer's AI journey includes details of its AI training bootcamp and the importance of a data management framework.
Each section concludes with 'Are you Ready?', a list of practical questions business strategists can ask themselves about how this trend can benefit them, and Deloitte's recommendations for how to answer each. These insights give readers a way to look at their business and identify steps they can take to benefit from changing trends.
Gathering the insight
Getting real subject matter experts involved – rather than people looking to raise their profile - is the key to making these reports useful. Deloitte are in the fortunate position of having considerable expertise to draw on, as shown by the multiple senior people credited at the end of each section.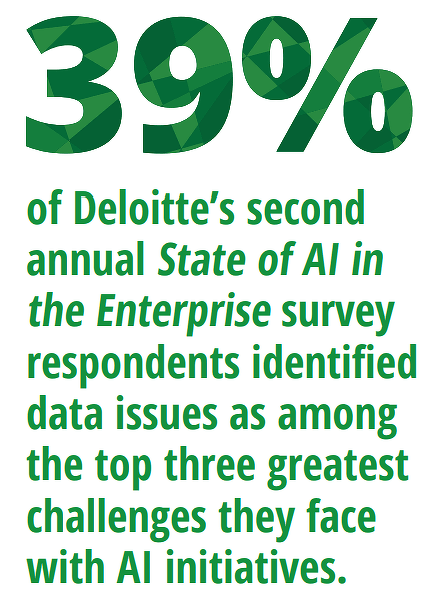 Claims are regularly backed up by research, including much of Deloitte's own, carried out amongst IT and business decision makers. This brings unique insight, and evidences its claims that these are the issues its audience are worried about.
Each section also invites credible third-party perspectives from business and academia, such as a Professor from New York University, who discusses the impact of 5G on company networking strategy; and the CIO of Nationwide, who explains how he is using data to create more personalised customer experiences. It's use of external experts, gives added weight, useful additional perspectives, and highlights to the reader the calibre of company Deloitte keeps.
How to present an insightful report
This an excellent example of how to present a huge piece of content with clear design and signposting.
The landing page presents a very brief intro and visually links the eight themes/chapters (plus introduction) in a circle (see image). Each theme icon visually reveals the section's progression, allowing the reader to quickly navigate the sections: case studies, third party views, or recommendations.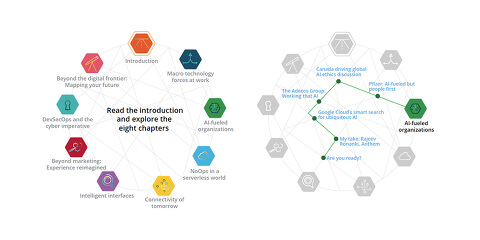 Videos and podcasts allow content to be introduced and consumed in different ways.
Each chapter is presented online on separate pages, which works both as a standalone insight and part of the whole. The case studies are curated on their own page for those just interested in examples. A full downloadable report is also available for those who prefer a traditional format (and research shows that many still prefer longer form content to be in printed form).
This atomisation of content is smart. Few will read the whole report, but this allows Deloitte to package up different sections for different audiences. It allows sales teams to send specific relevant articles to prospects as conversation openers or follow ups.
At the bottom of each page is the opportunity to subscribe for more insights, a key tool for bringing interested parties into Deloitte's CRM.

Weaknesses
Whilst this is full of good content, it occasionally runs close to repeating well-worn tropes about tech disruption, and some advice fails to differentiate. Its question and advice on 'What business objective can our organization achieve by deploying artificial intelligence?' is certainly valid. But Memetic client Tessella was saying this years ago, and many have covered this ground since.
In such a broad report it is hard not to occasionally offer pre-existing advice, particularly if that is seen as best practice. But every major consultancy has a report on new tech, so whilst there is no doubt Deloitte knows what it is talking about, they still need to rise above others who are equally expert.
Conclusion
Despite being a 142-page report (and online equivalent), it is clearly presented and easy to navigate. Within its broad framing, it includes huge amounts of standalone content which Deloitte will be able to promote for months via its marketing and sales channels. The case studies provide its sales and customer teams with evidence and examples of what can be achieved, smoothing the sales process.
The variety of content styles will engage different readers in different ways, whilst remaining clearly connected to the brand.
The report shows an ability to bring together nebulous trends and presents Deloitte as clear thinkers in a complex world. Its breadth – perhaps inevitably – means it sometimes falls short of the real gems of deep knowledge and actionable insight that one comes to such reports for. But in other parts it is strong, and the use of real, practical case studies goes a long way towards compensate for its occasional limitations, whilst giving them a wealth of hard hitting content to put in front of prospects.
For monthly insight and analysis of content like this, subscribe to our newsletter: https://www.memetic-comms.com/newsletter-sign-up/